Permaculture introduction
Permaculture is a movement that is growing in popularity globally; the term originally coined by two Australian guys, Bill Mollison and David Holmgren, back in the late '70s.
They believed that we need to move away from large-scale agricultural practices and, instead, follow natural patterns for the good of the planet's health; switching to localised systems with high yield, low waste and plenty of back-ups.
These systems of mimimal waste are those traditionally used by many small villages the world over. Permaculture translates these ideas into something systematic and comprehensive to the literary world.
The movement
The idea is making agriCULTURE PERMAnent, i.e. using methods of agricultural practice which allow farming and food production to be sustainable indefinitely, rather than exhaustive. It's set apart from organic gardening as it considers the culture and social too.
Bill coined the term and David consolidated the ideas into 12 design principles, including observing, obtaining a yield, storing energy, accepting feedback, following existing patterns and intergrating, rather than segregating.
All of this under the basis of three ethical principles: Earth Care, People Care and Fair Share. The social exchanges too, must also be reciprocal and sustainable; That's what sets Permaculture apart from other types of small-scale, organic farming.
It's necessary and possible with small changes if we want to continue comfortably and leave something for the next generations. Listen to David explain how you can help and Permaculture can change the world from a bottom up, grass-roots level.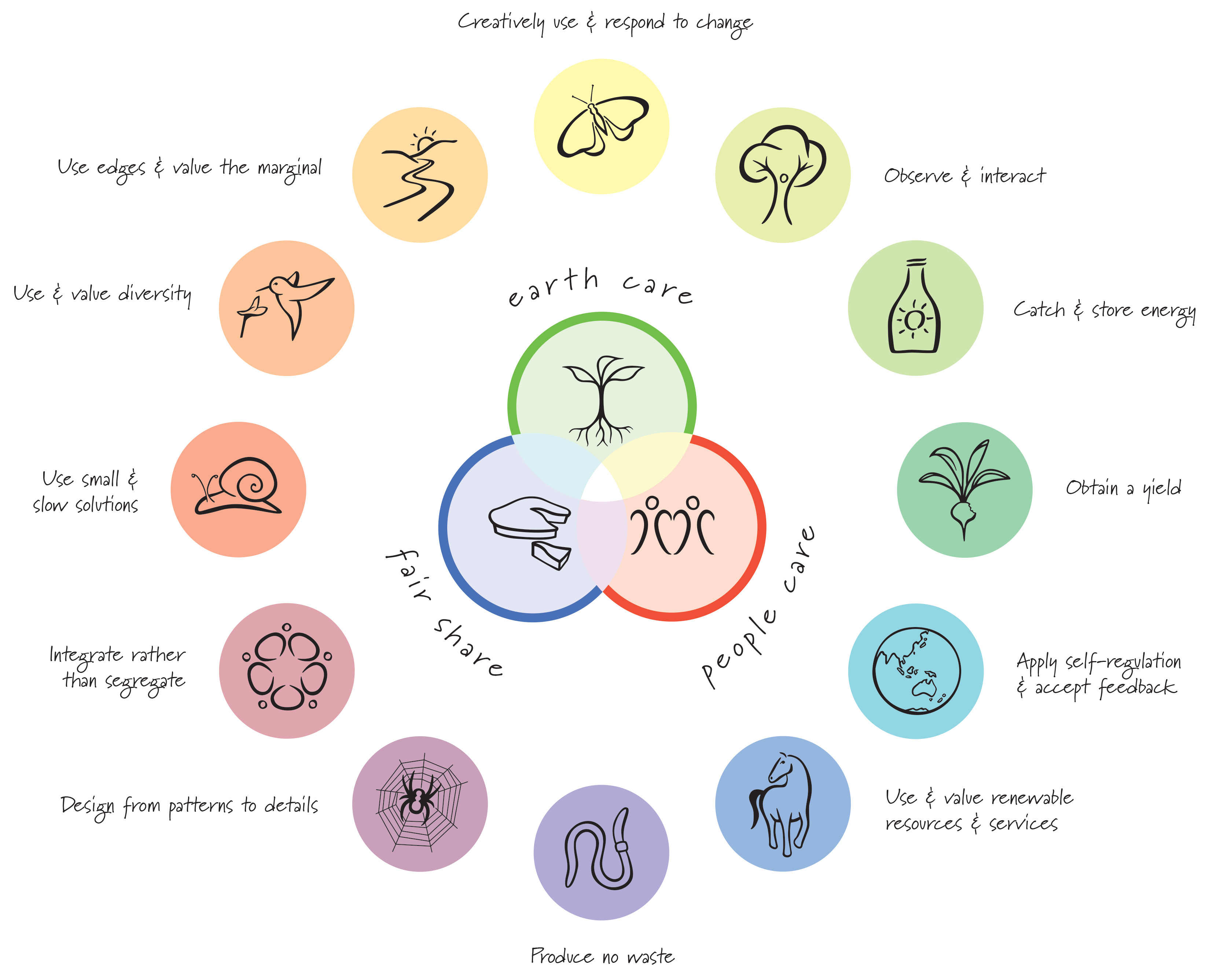 Ometepe UNESCO biosphere reserve
This is the perfect place to look into a culture that relies heavily on local trade and farming and supports no waste principles, while being heavily invested in community. Many rural places use permaculture practices without the fancy names.
Ometepe, and Maderas Volcano specifically, is noted for its progress in developing tourism in an environmentally responsible, conscious and preserving way.
The land here is very fertile, thanks to thousands of years of volcanic ash, and the tropical environment allows for production of wonderful and varied things.
Project Bona Fide are our neighbours if you are interested in immersive learning or educational volunteering they are a great place to stay. They also host PDCs. Selvista accommodations book up fast during this time.
Permaculture tours pass through here to see the range of farms, styles and ideas that come together and collaborate on the side of this lush dormant volcano island.
Your Permaculture Selvista Experience
So what does this mean for you
It means that your houses are crafted to be the most comfortable they can, taking into account lighting, breeze and shade; that we use locally sourced material wherever possible -often from our farm or neighbouring properties- and local trades(wo)men.
It means careful design and planning to ensure that we are regenerating, protecting and preserving the earth, the energy and the community.
It means part of your money from each stay goes into social projects like health care. Selvista sponsors the lab technician for his daily work in the laboratory.
It means that you will be attended by staff that are informative and bi-lingual, thanks in part to our educational projects.
It means you will see, feel and taste the rewards of the re-forested, edible landscaping, designed to keep you cool and refreshed from what was once a mono-cropped banana field.
It means that herbs you may want to use are located conveniently next to the kitchen. If you're not sure what you're looking for/at be sure to let us know and we'll happily show you around.
It means you don't have to worry if you can't finish your hearty breakfast breakfast, you know the scraps go back in the loop and are feeding something. We need to keep things within their cycles rather than taking them all out and disposing of them, like 'throwing it away' means it disappears.
It means that your breakfast contains fresh, nutrient-rich, chemical-free ingredients that have been picked just meters away from where you dine.
It means you'll have a variety of fruit growing all around you for your pleasure and nutrition. We grow varieties so as not to exploit the soil with too much of one thing and ensure that nutrients are replaced by others.
It means that if one of the fruits fail from disease or weather we still have plenty of other varieties to keep us going.
It means that if one aspect of our project fails we can rely on all the others to keep us afloat and that we still maintain all staff even in times of low tourism. Like a web, each extra strand offers extra support.
We use gravity-fed systems for our fresh, spring water supply, which we store above the property. The water comes from a fall named Jerusalem, and is the source of potable water for several of the neaby towns and communities.
We also have water-less toilets as an option for those of you who prefer. We use bio-digestors to deal with our waste from the en-suite flush toilets. We can show you around the systems, if you're interested.
There is an outdoor, spiral shower that is open to all guests if you feel like showering under the stars or with the common howler monkey visitors among the mango trees.
We are partially off grid, constantly expanding the current solar-powered electrical system that we run off here to include more panels and power more houses.
The Homestead House is a great example of the 'ripple effect' idea of placing your most-needed items immediately around your home zone.
It's high roof and opening in the dome allows hot air to escape and the open sides allow cool breezes to pass through.
Selvista is a relatively small property, but produces such a variety thanks to its efficient use of space and pairing plants that will complement each other, such as our entrance of coffee and coconuts- one is short and loves shade, the other grows tall, produces shade and loves sun. The perfect combo to optimize the driveway, and the diversity attracts many species. And what a welcome!
You don't need a tropical acre for this unique experience to be relevant, you can think about how to utilise space, multi-use elements, stacking tasks to produce more efficiently and how to put back into your own system.
Our friends and neighbours, Project Bona Fide, are hosting their 14 day annual Permaculture Design Course in January 2020. If you're interested in learning more about permaculture and design join this immersive, educational vacation is the perfect place to start.